Order by:
I wanted to sell my Symphony Kaizen air cooler which I purchased in July 2011 and it cost me Rs. 6300/-. I hardly used it. Click here
Rs 5,500
... Crona Portable type writer( with handle to be carried as briefcase- sparingly used)- air COOLERS- 2
Rs 0.00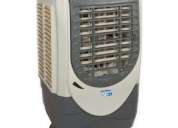 Type: air....cooler 30 Litre Water Tank Capacity 20 ft. air Throw Powerful Copper Wound Motor Wide Angle Oscillation....
Rs 350,000